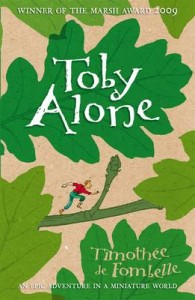 You know a children's book in an English bookshop is a small miracle when it's been translated from another language. Don't want to sound sarcastic, but the English and the American translate enough books per year to fill a small corner of a bookshelf in a dolls' house. It is fact. When in France, Italy, Greece and South Korea every bookshop contains pretty much as many homegrown books as translated ones, in England and the US the ratio is laughable – apart from Tintin, Astérix and the Moomins, there aren't many foreigners in the Anglophonic hegemony.
But not only was Toby Alone translated (Walker Books), it was also extremely well translated, as Sarah Ardizzone won an award for it. I was delighted to hear it, and to see the book at Waterstones', because Toby Alone is one of these few truly magical children's novels which make you want to grab the nearest person by the collar and beg them to read it. A truly delightful, beautifully crafted, tender novel, Toby Alone is already, in France, a modern classic.
The premise is catchy: one-and-a-half-millimetre-tall Toby lives, like everyone else, on a great Tree-World outside of which, he is asked to believe, there is nothing. His father is an inventor, and has discovered the awesome properties of the tree sap. Properties which can be used for good… or bad (understand: for profit). And some people want to use it for profit. As a result, the tree is dying. Toby's quest is, at the same time, to save the tree, to save himself, to save his parents, and to learn the truth about the World he lives in and the foreign people who sometimes invade, and who must come from somewhere…
Throw in a strong-headed young girl, a ruthlessly ambitious enemy, and some hilarious comic relief characters, and you get one of the most colourful and lively books for children in a very long time.
It is also an old-fashioned tale, with a nostalgic feel for a conservative order, a society of artisans, closet scientists and fragrant cooking. A world in which people's lives follow the slow rhythm of the seasons. A world where everything is made of living matter to be feared and protected. The novel makes no mystery of its ecological dimension.
The main reason, I think, why it was translated into English (apart from the fact that it is a gorgeous book, but we have many other splendid French books that never get translated) is that the socio-cultural background is absolutely universal. Toby Alone will be readable tomorrow and in fifty years' time, here and in Paris and in Tokyo. I am very glad Walker made this important and beautiful novel available to English children, and the second book in the duology, Toby and the Secrets of the Tree, is almost as good.
by Clémentine