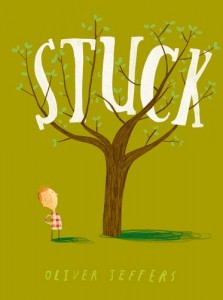 Playing on repetition, apparently very dear to child readers,but adding a surrealistic twist to it, Stuck, Oliver Jeffers's latest picturebook, is 100% efficient. Premise: a little boy gets his kite stuck in a tree. What do you do in this situation? Well, throw lots of other objects into the tree, of course. Lots of objects. Including the most… unexpected.
The pictures are as bright and funny as can be expected from the famous artist, and the matter-of-fact tone of the absurd sentences is guaranteed to make everyone laugh. It is also, importantly, a great read-aloud book, with clever variations in pace and tone which the adult co-reader will pick up on easily.
There is absolutely nothing wrong anyone can possibly say about Stuck; it is a good example of a completely successful picturebook, nothing less and nothing more.