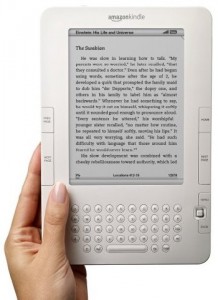 One thing an e-reader was supposed to do was to remove 'library anxiety' – otherwise known as the worry that people will judge you by the book you read. Unfortunately I seem to suffer from this unfortunate ailment more than ever before, since my kindle wormed its way into the heart of my commute.
You see, all I seem to be able to read on it, is – for lack of a better word – trash (see episode two). If I purchase something on there I deem good, I immediately have to rush out and buy a paper copy. If it is something that I know will be good, or I will read more than once, then of course I want it in a form I can lend to people. In a form that feels much more substantial than a file on an e-reader, that I can read without having to charge a battery. One of my favourite things about my kindle is that it is an ideal receptacle for books that I want to/have to read, but would never deign to give shelf space to. They are all available and there for me to read, but hidden away. Being someone who ruthlessly judges others by what they read, e-readers also perform the function of hiding the fact that I am reading a children's book/chick lit/Twilight. I can sit on the tube, happily caught up in Alex Rider's latest adventures or Bella's incessant whining and no one around me is any the wiser. I could be reading War and Peace for all they know. When I started to read books like that on my kindle, the frequently judgemental looks from other passengers stopped. Any lover of children's books who uses public transport must be well used to these 'looks' by now. They are usually given by women in suits.
However, this has given rise to a new anxiety – one that I didn't expect. I now spend entire journeys worrying that if I died, like, right now, and all that was left to know me by was my kindle, people would think I was an uncultured, unrefined pleb whose library solely consisted of paranormal romance, Jilly Cooper-esque romps and a couple of token free classics (that the examiner would assume were unread). My spirit would be there screaming 'go to my house! There are adult books there! Proper ones! Middlemarch and everything!' If I was reading a print copy of the paranormal romance they might (quite rightly) speculate that I had a broad taste in reading and this was only part of it. But the many many books on a kindle could be assumed to be representative of your general taste in books….
This is a literary version of the always-wear-clean-knickers-in-case-you-get-hit-by-a-bus anxiety, if you will. Clearly it is unlikely that if the tube crashed the kindle would survive. And it is also clear that this all arises from my own biblio-snobbery, and if I were a little less judgemental about others I would probably be less worried about being judged myself.
But as I am unlikely to succeed in dropping the snobbery any time soon I will continue to worry and have a spare copy of Jane Eyre in my bag. Just in case. And nice knickers on – of course.
By Lauren